How do you tell your story?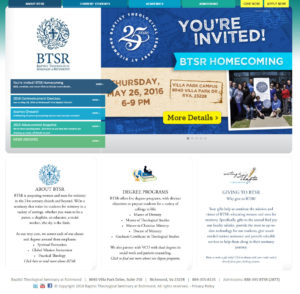 People want to know more than just where are you located. They need to hear your stories. Where do you come from? What do you believe? How do you serve? What are you doing now?
Your website is the first and sometimes only place that people look to find information about your church. Not only should it give basic information about your location and worship times, but it should engage people and draw them in. Every church has a rich and vibrant story to tell, growing from its past and stretching into the future. Let us help you tell that story.
Beyond first impressions, you need to consistently engage and inform the community of people that call your church home. A well-built and dynamic website can help keep your fellowship engaged, communicate news quickly, and help manage your resources. Help your community flourish by making it easy to find the information they need.
Websites don't have to be mysteries and they don't have to be expensive. Depending on your needs and resources they can be simple, requiring only modest effort from staff and volunteers, or dynamic and constantly changing, delivering dynamic and multimedia experiences to keep your news and information fresh and timely. There is a solution for every skill level and every budget.
We can help you create a website that:
is attractive and represents your church or organization well.
is easy to update.
easily handles text, audio, photos and videos.
works on smartphones and tablets as well as laptops and desktops.
offers needed features: mobile app for updating, online donations, forms and more.
is affordable.
For more information, here are some Frequently Asked Questions about website and the development process.
In partnership with Faithlab, we have access to a broad range of talented and experienced designers, developers, and hosting solutions for websites. We can take the mystery out of the technology, walking alongside you find the right way to tell your story.
Regarding Billing
When we develop a new client relationship, we bill by the project and provide clear deliverables. That gives the client a fixed amount to budget around and a clear understanding of expectations. Any work that goes above and beyond that project fee is not added (like a surprise), but is assumed by us as a part of original quote. However, if new work is generated during our ongoing relationship which extends beyond the scope of the original project, an additional project can be created to cover those costs
Contact us and let's discover the best solution together.